Since 2007, Jenagar has traded as a private company and granted registration across a broad range of Training Packages we have built up a large and diverse client base. These are;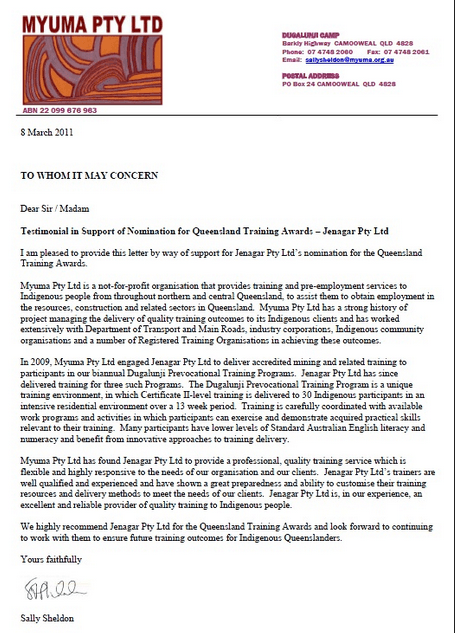 Myuma Pty Ltd
Jenagar is proud to be associated with the Dugalunji/Myuma indigenous training program. This program is held 2 times a year for a period of 13 weeks. Jenagar is contracted to deliver up to Certificate II in Surface Extraction Operations and Certificate II in Resource and Infrastructure (Work Preparation). Confined Space, Safe Work at Heights, Level 2 Chainsaw and machinery certification are some of the programs delivered. Jenagar Pty Ltd has increased their scope to cater for the Chem Cert Certificate as well as other courses related to the needs of Myuma management.
Toll Global (Mining)
Toll Mining Services is part of the mining arm of the Toll operations at Cloncurry in NWQ. Toll is the preferred contractor to BHP Billiton Cannington Mine to transport product from its mine to the rail loading depot at Yurbi near Cloncurry. Jenagar has been contracted to deliver training and assessment to all supervisory staff, transport drivers and operators working at the site. Toll mining personal are issued with the relevant Statement of Attainment. Jenagar also conducts specialist JSA Training and offers WHS Certification for Loaders, Skid Steer, Forklift and EWP.
Resolute Mining Carpentaria Gold
Jenagar has been associated with Carpentaria Gold for about 4 years. In the past we have been responsible for the development of the underground safe work procedures, development of underground training packages including Trainers Resource Books, Power Point Presentations and assessment tools. Jenagar also conducts specialised training programs in Safe Work at Heights, Confined Space and an assortment of crane certificates.
Xstrata Ernest Henry Mine
Jenagar is appreciative for being awarded the tender to supply training services in partnership with Ernest Henry Mine at Cloncurry. This agreement commenced on the 1st August 2010 and was awarded as a dual tender with another major RTO in the region. This has since been extended until June 2015.
---
Other Clients
Kagara Zinc
Toll Mining
BDM Construction Pty Ltd
All Souls and St. Gabriels School
Xstrata Ernest Henry Mine
Birla Mt Gordon Mine Century Mine
RoadTek
Myuma Pty Ltd
Charters Towers Regional Council
Doomadgee CDEP
Maxgate Pty Ltd
Boulia CDEP
Job Futures
Mastermyne Pty Ltd
Stratacrete Pty Ltd
Ergon Energy
Evolution Mining
Coolgarra Mining
Maxfield Drilling
CuDeco
Mineforce
RCR Resources
Clover Downs Construction
Sodexho
Carmichael Mining
CopperChem